I did a Q&A over on Instagram stories the other day and one of the most asked questions was "how do I start a blog?!"
If you have dreams of starting your own blog, whether it be for a hobby or to perhaps make it your full-time job, then this post is dedicated for you! If you're not familiar with my back story, I started this blog back in 2014 (crazy to think that was 5 years ago now), but was even blogging long before then! I was feeling super uninspired and lost after graduating university and needed an outlet. Perhaps a way to connect myself to like-minded people and fell into the big and beautiful world of the bloggersphere. Photography and writing have forever been one of my biggest passions alongside my childhood dreams of being a fashion magazine editor (or maybe I just watched too many episodes of The Hills? Miss you LC). Never in a million years would I have thought my blog would turn into my career and I couldn't be thankful enough.
Enough with that, I'm here to show you how it's possible for you to start your own little corner of the internet!
Step 1: Choose your blogging platform
Once you have worked out a name for your blog, whether it be your actual name or a made up one, you'll need a website. I started off on Blogger/Blogspot and after a couple years moved over to self-hosted WordPress. Let me save you the headache of migrating and recommend you start off on WordPress. It is a much more professional, beautiful and seamless platform and definitely the most popular. I understand blogger is a free platform but you do not own any of the content. Blogger does. Essentially you will never have full control over the blog, which is scary. This means blogger could in fact just crash any day (it's happened to a lot of bloggers) and you'll lose all your work. There's nothing you could do about it.
If you do decide on WordPress, make sure it's self-hosted, so you'll need to be on wordpress.org and not wordpress.com. Otherwise my second recommendation would be Squarespace!
Step 2: Choose your hosting plan + domain name
What is hosting?
A host or hosting is a service that you need to reserve your spot in the internet — it's a place that hold's all your blog's data, posts, photos, and more. This means that once it's connected with your domain name and someone types it out on their browsers, your hosting will connect that person to your blog.
If you go with a wordpress.org platform, you'll need a web hosting service and domain name. I am with SiteGround and could not recommend them enough. They are the most affordable, reliable and have the best customer service. My web hosting history hasn't been great as I was first with BlueHost (*shivers*) for the first year or two and it was a NIGHTMARE. My blog would regularly go and customer service was shocking and near non-existent. They tricked me into buying more "upgrades" so that my blog would run smoothy and alas, it did not. Just thought I'd share as you might come across them when exploring hosting options.
Okay, back to SiteGround. I switched to them at the beginning of this year and haven't had a problem since. Despite high traffic, my blog runs as smoothly as ever. You can also buy your domain with them and they'll walk you through the entire process, step by step. Perfect for anyone who is really new to this. Plans start at $4.95 per month and they even have specialised WordPress hosting!
Setting up your SiteGround hosting
Which plan should I choose?
Once you've started setting up your SiteGround hosting, you will be prompted with 3 different plans:
The StartUp – a good choice for you if you want a very basic plan for one website only
The GrowBig – a great value for money plan that includes the option for multiple websites and great starter features to improve your blogs performance
The GoGeek – this is the one I use. It's perfect for you if you plan to go big as a blogger and want to make it your full time job. This plan offers a lot more premium features and developments. Also ideal if you're planning to create an e-commerce store in your blog.
Once you decide on the plan that you want, click the "Get Started" button. You can always change this at a later time if you start getting in a lot of traffic.
Choose your domain name
What is a domain name?
A domain name is your website's address. For example, my domain name is thesundaychapter.com and will remain as I continue to pay the annual fee.
Yes, you will need to pay annual fees to own your domain, you can't just pay all at once and own it forever. Rest assured, these fees are generally pretty affordable. Once you have a name in mind, check if it's available as a .com address. I prefer '.com' because it is the most universal and easy to remember. If your idea is still available as a domain, you should check if it's available across all social media channels to also ensure that the username is not taken yet. You can use KnowEm to do this quickly.
Choose payment options
Next to "Period" you will notice it automatically bill you for a 12 month period but you can change this. I pay every 36 months since it's the maximum plan and takes full advantage of the 60% discount. If you need the domain name, the price will be added to it. In this case it's 19.95 for the year which is a great deal. If you explore other domain options you'll find them all the same price or even more. I would just prefer to have it all in one place (web hosting + domain hosting).
Take note of the extra services too. These are optional, of course, but I would highly suggest adding on following.
Domain privacy: I never had this in the beginning until I found out people could literally search my home address through my domain name. If you want to protect your personal information on the web (specifically your name and address that you had input in the Contact Information section), I would definitely consider adding this on.
HackAlert Monitoring: Added protection from hacking and malware.
Step 3: Install WordPress
Now that you have your domain and hosting (wooo!) it's time to install your WordPress. SiteGround pretty much has this covered for you with their setup wizard! Basically they will do all the hard work. In your SiteGround Customer Area, you'll get a pop-up asking if you'd like to have WordPress preinstalled on your account. Click 'Get WordPress preinstalled on this account' and Proceed!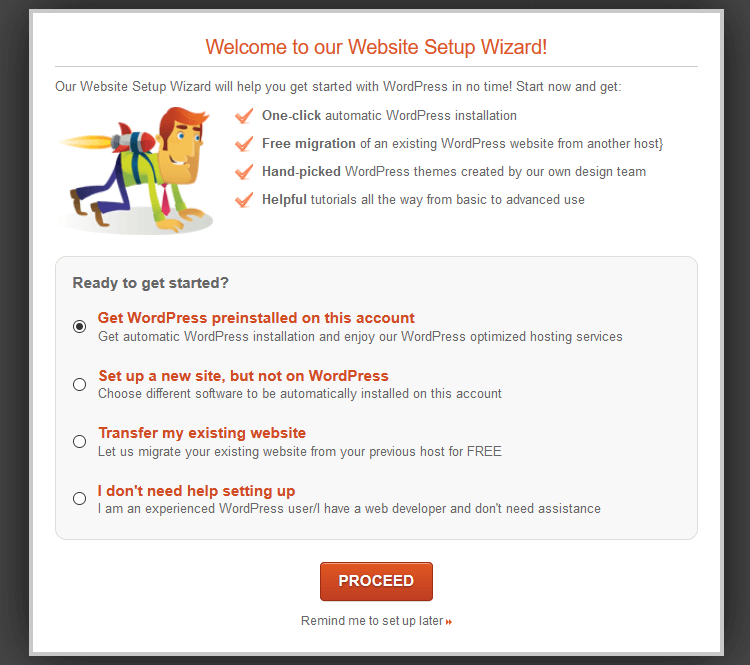 Enter all your login details on the next page. Then choose a WordPress theme. Don't stress about actually picking one now as you can do that later. Just choose one to get setup right now and we'll come back to this.
You'll come to a 'Congratulations' page where it will show you the admin URL. This is where you can access the admin area of your WordPress blog.
Now that you have your admin URL you can log into your blog! Go to http://www.YOURNEWDOMAIN.com/wp-admin and enter in your login details.
Step 4: Choose a theme
Now that you have your blog setup, it's time to pick a theme and start designing your blog.
Where can I get a free theme? 
WordPress.org – Go to your blog's WordPress Dashboard (http://yourblog.com/wp-admin/). On the left column, click 'Appearance > Themes > Add New' and you will see a list of free themes that you can install for your blog
If you're not satisfied with any of these themes, you can look for paid themes which offer better features and customisations. You can even hire a web designer to build a custom theme for you, but thats when things start getting expensive.
Where can I get premium (paid) themes?
What about WordPress plugins?
WordPress plugins are apps that allow you to add new features and functionality to your WordPress website. Exactly the same way as apps do for your smartphone. I would definitely recommend installing some to your blog!
To install plugins, go to your WordPress dashboard: click 'Plugins > Add New'. In the search box, type the plugin names below and click 'Install' as needed. Here's some to get started with.
Plese note: Try not to install too many plugins because it can slow down your website.
Step 5: Start publishing posts
The time has come to publish your first blog post! In your admin area, on the left hand side go to Posts > Add New. It's here you can add text, images and more. In the top right hand corner of the text box you'll see Visual / Text and I would normally stick to Visual unless you have HTML codes to add.
A few tips to add here:
Introduce yourself. If you're stuck on your first post, perhaps you can make it an introductory. Tell people who you are, what your blog is going to be about, etc. Show people what they can expect reading your blog!
Post regularly. I recommend having some kind of schedule in the beginning, at least. Obviously this keeps your readers updated but also helps to improve your SEO / Google ranking. I would suggest starting with 3 times per week. Some bloggers end up posting once a week or 5 times a week. It depends on your content and how much time you're willing to dedicate. For me, I started with 3-4 times a week and now generally post about 1-2 times a week as the blog has grown onto different platforms.
Promote your posts. Publishing the post a fraction of your job. Now, you must promote it! You need to push it out there continuously for people to read. Share to Pinterest, Instagram + Instagram stories, Twitter, Facebook and any other social medias you own. You can also share it in Facebook groups and the appropriate forums online. Connect with other bloggers to cross-promote your posts or ask to write guest posts on their blogs (if they accept them).
---
Phew… well, that concludes it! How to start your blog from scratch. I hope it was easy for you guys to follow through! And a massive congratulations if you did just start a blog – be sure to drop your blog links in the comments. I'd love to check them out! Also, let me know if you have any other blog related topics you'd like me to cover?!