Bali is a place I believe should be on everyone's bucket list. I fell in love with everything about the island and since there are so many astounding places and sights to see, it can be a bit overwhelming if you've never been there before. Here's a list of 10 places you just can't miss in Bali.
1. Rock Bar at Ayana Resort
The atmosphere at Rock Bar is incomparable. It's awe-inspiring. I would suggest to walk the scenic route instead of waiting for the cliff-side inclinator, it's much more rewarding and the views are spectacular. That being said, line up a couple hours before sunset to get a good spot. The drinks are expensive, starting at about $18 for a cocktail but once you arrive, you'll agree the atmosphere is well worth the price.
2. Tegallalang Rice Terraces
You really can't go to Bali without experiencing the rice paddy fields. You can hire some bikes and explore the countryside on your own, or book an ATV riding adventure. I would recommend spending a night in Ubud and wake up to the breathtaking views. The best vantage point is along the road of Tegallalang, where there's also roadside stalls as well as small restaurants with views of the paddies.
3. Ubud Monkey Forest
The monkey forest in Ubud is perhaps the best known, also known as the sacred monkey forest. The forest alone is extraordinary and unlike any other in Bali. As you walk through monkeys will come out and jump on you, so be careful of your belongings! There's about 7,000 monkeys in the forest, including infants.
4. Eat Seafood in Jimbaran Bay
This place is known for its amazing seafood, and although we never had time to experience it, locals and drivers would all recommend this place. I would suggest a romantic sunset dinner at Bawang Merah Beach Restauran where the tables are all lined directly on the beach.  This one is definitely on the bucket list for the next trip to Bali.
5. Experience an infinity pool
Infinity pools are easy to find in Bali, however the most famous ones are found at Munduk Moding Plantation, Alila Ubud + Uluwatu and finally, the Ubud Hanging Gardens. These are all unrivaled in Bali and some of the most beautiful places in the world.
6. Eat all the smoothie bowls

I feel like you wouldn't be doing Bali right if you didn't try one of the famous smoothie bowls found all over the island. I could probably live off them if given the chance, plus they're the perfect refresher from the heat! The fruit over there is some of the freshest and most flavorful I have ever tried. My favourite places to pick up one are Cafe Organic, Nalu Bowls, Earth Cafe, Watercress Cafe, Sisterfields, and The Spicy Coconut.
7. Explore unknown beaches
The main beaches in Bali aren't too special. If anything, I would try to avoid them. They're quite dirty and you'll be disturbed every 5 seconds with people trying to sell you something or ask for money. The ones I'd recommend adding to your list are Pasir Putih Beach, Geger Beach, Green Bowl Beach, Karma beach, and Amed beach (shown).
8. Take a trip to the Gili Islands
Although an overnight stay at Gili Trawangan was enough for us, people stay there all Summer. It's a beautiful place to explore and get away from the craziness of Bali. Gili T is the biggest island of the gili islands, and has more of a party scene, where as Gili Meno & Air are more for people who want something a bit more quiet and secluded.
There's also Lombok island, which is a short boat ride from the Gilis. There's volcanos to climb, waterfalls and swimming holes to discover. It's like tropical paradise.
9. Tanah Lot temple
Tanah Lot is a rock formation that is home to the pilgrimage temple Pura Tanah Lot, a popular tourist and
cultural icon. It is one of Bali's most important landmarks, and is a most incredible sight to see at sunset. You can learn more about its history here. It's approximately 20km northwest of Kuta.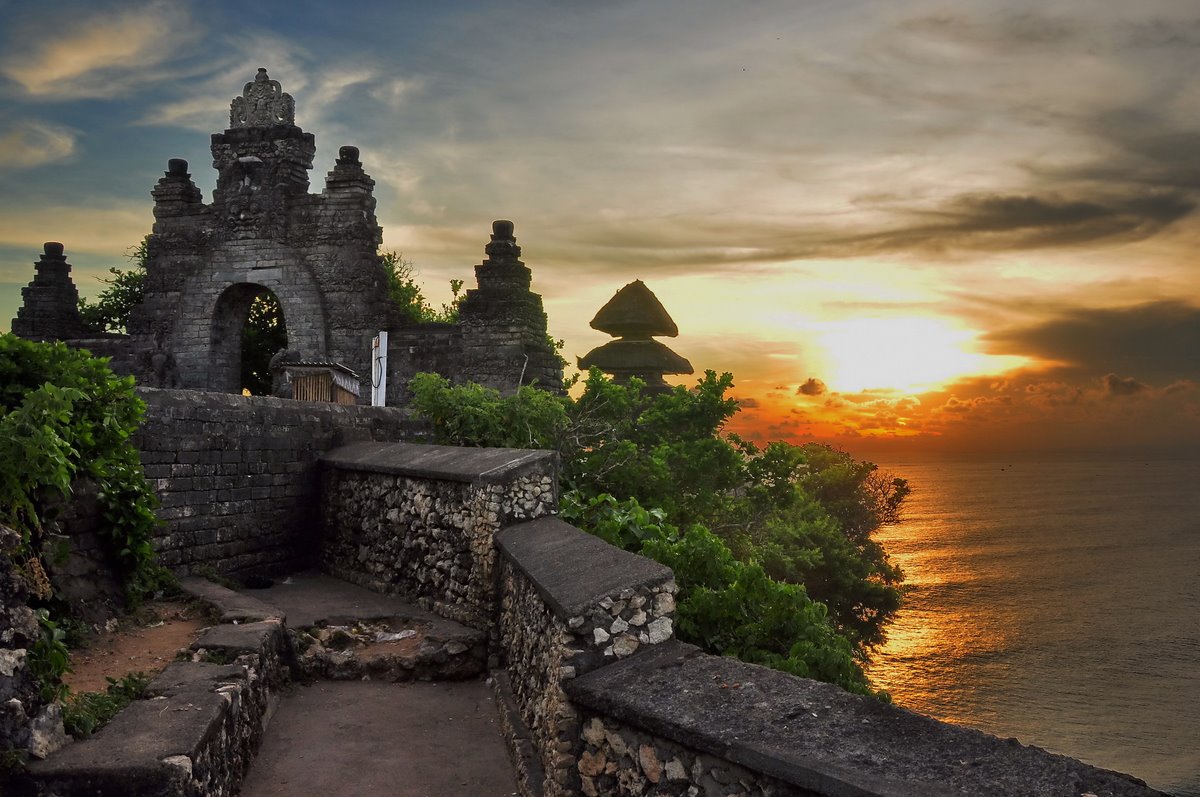 10. Sunset at Uluwatu
Uluwatu was one of my favourite places and I only wish I saw more of it. Bali is filled with temples, but one of the most famous, located on a cliff, is Pura Luhur Uluwatu. There's walking paths and tracks all over the cliffs, and it is best to catch it at sunrise or sunset. There's monkeys everywhere and fire dancers, making the experience truly unique.
Shop the Bali Edit